We happily offer our patients Empower® Brackets
The Most Complete Self Ligating Bracket System in the World.
Empower is all about choice. With Clear, metal, and molar options, as well as interactive and passive designs, Empower's complete system allows you to customize treatment that fits your philosophy and your patients' needs.



Empower offers a new and technically advanced system that can give you the radiant smile you have always wanted more quickly than traditional braces, and without the need for ugly, unsanitary, and uncomfortable ties or elastics. Best of all, there's never a need to have your braces tightened! Using light, gentle forces, Empower makes the path to a beautiful smile faster and more comfortable than you ever thought possible!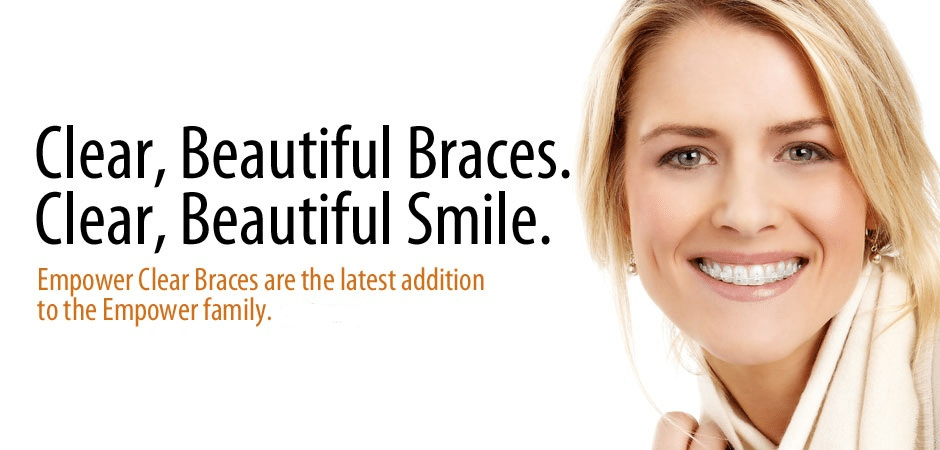 Traditional Braces
Elastics and ties used in older braces put pressure and friction on teeth which slows treatment and causes discomfort.
With Empower® Brackets You Can Have…
Faster results
Shorter appointments
Fewer office visits
Greater comfort
Improved facial proportion and appearance
---
Attractive Advantages For You…
Dual Activation combines interactive anterior brackets with passive posteriors for a hybrid system that minimizes ligation forces, while still offering full anterior control for precise finishing.
Anterior teeth – Interactive brackets. Low ligation force during initial leveling and alignment; exceptional torque and rotation control during finishing.
Posterior teeth – Passive brackets. Low ligation forces throughout all stages of treatment.
*Available in Empower metal